PRIVATE SPANISH CUISINE WORKSHOP & MARKET TOUR LA BOQUERÍA
Meet up with your guide in the Plaça Reial and set off on foot toward La Boqueria, the incredible food and produce market at the heart of the city. Stroll among stands heaped high with beautiful ingredients from Catalonia and elsewhere in Spain as your guide describes the history of the market and the area where it's located.
After that we come back to our studio in order to go ahead to make the cooking workshop.
All carefully prepared to perfection, the sampling menu consists of a spectacular array of ten "Tapas", originating from various cities within Spain.Taste as you go along and listen to the chef a brief explanation of the origins of each ones and explain how to use important regional ingredients such as olive oil, tomatoes, and herbs. The chef will explain the history of Spanish cuisine through these "Tapas".
After that we will be ready to start the cooking class.
The workshop is designed for every participant involved in the experience, the chef and his assistant will participate with them giving some instruction in the cooking process. For the menu we have Potatoes Omelet, Seafood Paella and for dessert Catalan Cream.
Finally, there will be a tasting of the prepared dishes served at an Imperial table. Includes drinks during the "Tapas" tasting, during the cooking class and during the tasting of the menu in lunch or dinner format. And then coffee or infusion..
Schedules available for this experience: for lunch we started the tour to the market at 10.00 a.m. And for dinner we start with the market tour at 3 p.m. Also available late dinner hours, we start at 7.30 pm. With this option, the tour to the market is not done as it is closed at that time.
Language: English/ Spanish.
It is private cooking workshop, that is, with a chef, assistant and a private space for you. For groups of two to twenty two participants.
Contact us for more information and reservation.

Touristic visit to the market: La Boquería

Cooking Workshop led by a professional chef

It includes tasting 10 "Tapas" and a full lunch.
TASTING MENU: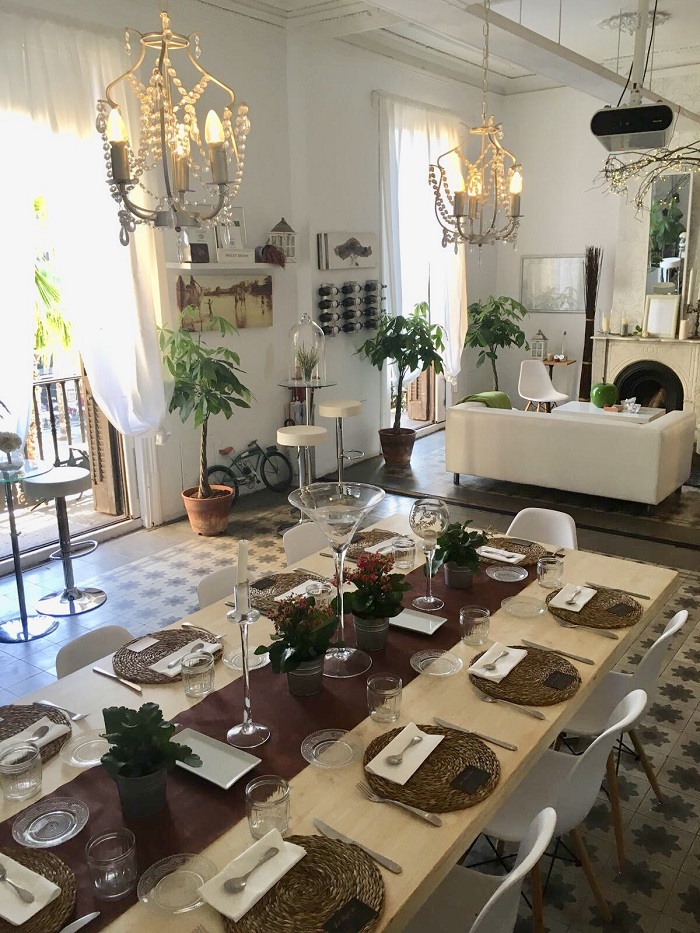 Make your reservation now!
✻