OPEN SPANISH CUISINE WORKSHOP & MARKET TOUR LA BOQUERÍA
We're located at Plaza Real, Barcelona downtown, next to La Ramblas.
The experience begins with a tour around the nearby
market La Boqueria. With a rainbow of top-quality produce and diverse blend of aromas, it's hardly surprising that it is saturated by tourists, making it all the more useful to have a local guide you through the hustle and bustle. The guide will explain to you about traditional foods and the most popular Catalans products as well.
After that we come back to our studio in order to go ahead to make the cooking workshop.
All carefully prepared to perfection, the sampling menu consists of a spectacular array of ten "Tapas", originating from various cities within Spain. The chef will explain the history of Spanish cuisine through these "Tapas".
After that we will be ready to start the cooking class.
The workshop is designed for every participant involved in the experience, the chef and his assistant will participate with them giving some instruction in the cooking process.
For the menu we have Potatoes Omelet, Seafood Paella and for dessert Catalan Cream. Once everything's ready, sit down in a private lounge in a beautiful, centuries-old building. Sip on fine regional wines as waiters serve the dishes you've prepared.
Includes drinks during the "Tapas" tasting, during the cooking class and during the tasting of the menu in lunch or dinner format. And then coffee or infusion.
This activity can be reserved to form part of an open group with a maximum of 11 participants or to be done as a private group.
If you want information on other cooking workshops for private groups, contact us.
Schedules available for this experience: for lunch we started the tour to the market at 10.00 a.m.
And for dinner we start with the market tour at 3 p.m.
You can also book for the last dinner shift, is the time that dinner is served in Spain, we start at 7.30 p.m. You will not go hungry, because it begins with the tasting of the Tapas. In this case, the market is not visited because it is closed.
Languages available: English or Spanish.
You can book at the link at the bottom of this page.

Touristic visit to the market: La Boquería

Cooking Workshop led by a professional chef

It includes tasting 10 "Tapas" and a full lunch.
TASTING MENU: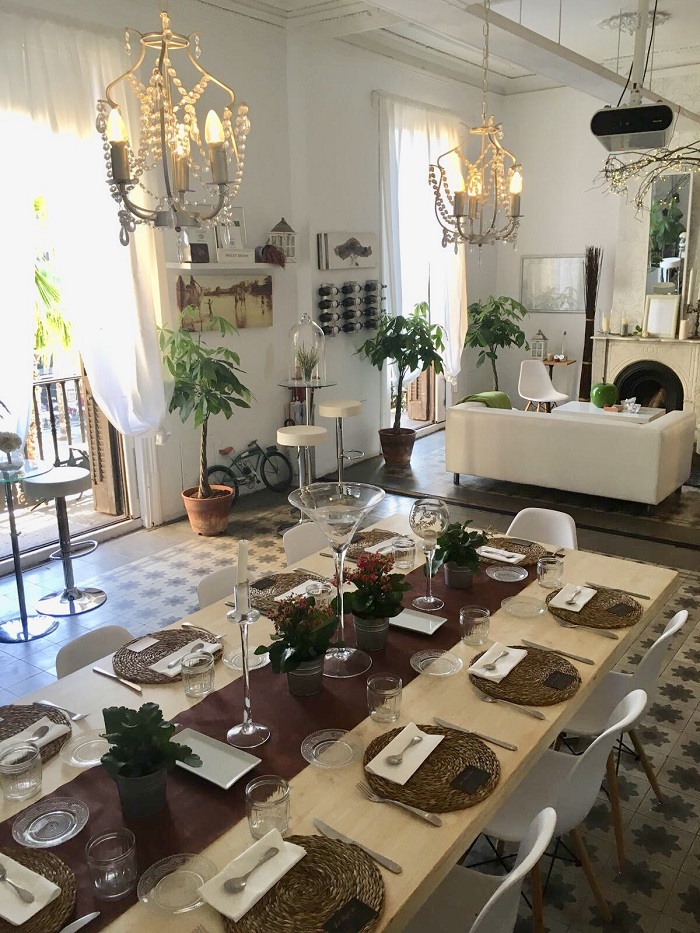 Make your reservation now!
✻
DO YOU WANT TO GIVE AWAY ONE OF OUR GIFT CARDS?