PRIVATE SPANISH CUISINE WORKSHOP & MARKET TOUR LA BOQUERÍA
Meet up with your guide in the Plaça Reial and set off on foot toward La Boqueria, the incredible food and produce market at the heart of the city. Stroll among stands heaped high with beautiful ingredients from Catalonia and elsewhere in Spain as your guide describes the history of the market and the area where it's located.
Next, head to the private home of a professional chef for a comprehensive, hands-on cooking class. Learn a variety of traditional Spanish recipes. Taste as you go along and listen to the chef explain how to use important regional ingredients such as olive oil, tomatoes, and herbs.
Before starting the cooking class, you will have the chance to try ten tapas from different cities in Spain, and the chef will give a brief explanation of the origins of each ones.
From there, head back to the kitchen and get ready to cook. Learn to prepare typical Spanish recipes as you learn about the significance of Spain's famous tapas, whipping up local delights like paella with fresh seafood, crisp patatas bravas, and a simple but delicious Spanish omelette. Once everything's ready, sit down in a private lounge in a beautiful, centuries-old building. Sip on fine regional wines as waiters serve the dishes you've prepared.
Schedules available for this experience: for lunch we started the tour to the market at 10.00 a.m. And for dinner we start with the market tour at 3 p.m. Also available late dinner hours, we start at 7.30 pm. With this option, the tour to the market is not done as it is closed at that time.
Language: English/ Spanish.
It is private cooking workshop, that is, with a chef, assistant and a private space for you. For groups of two to twenty two participants.
Contact us for more information and reservation.

Touristic visit to the market: La Boquería

Cooking Workshop led by a professional chef

It includes tasting 10 "Tapas" and a full lunch.
TASTING MENU: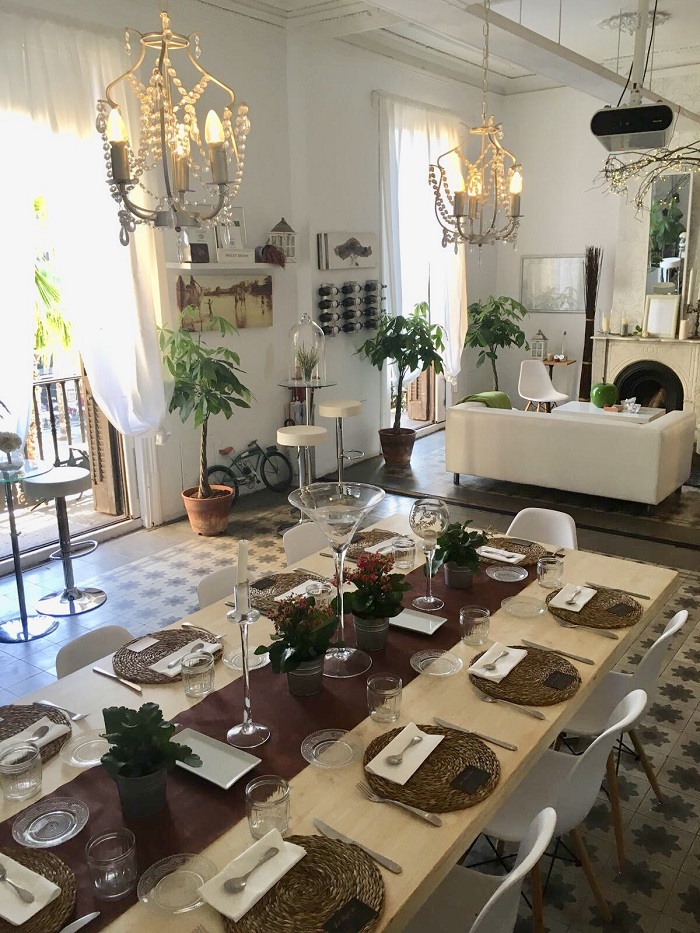 Make your reservation now!
✻